HELLO
Craft Fairs and Paintings
My crafting journey started when I was a little girl, I could always be found painting and drawing.  I was at my happiest when I was getting messy with paintings and crafts.  In school I studied art and wanted to take it further but was encouraged to take up secretarial studies instead, so 'I would never be out of work'. Indeed this has stood me in good stead as luckily, I have never been out of work.  

My crafting journey really took off when my children grew older and because of this I had more time to myself.  Paintings and crafts gradually took over and I found I loved doing anything craft related.  It was then that I started having stalls at craft fairs and I found I really enjoyed the whole experience. I made gem tress, cuddly toys, you name it.   I realised I enjoyed painting really tiny things and started to specialise in dollhouse miniature paintings.  They became a good seller and I attended various specialist Dollhouse Fairs in London.
My crafting journey took another turn when a work colleague asked me to paint his house as an anniversary gift for his wife.  I found I really enjoyed the creative process of painting houses and buildings and capturing all those lovely memories.
 HOUSE PORTRAITS
"Jan's work is amazing, I cannot recommend her highly enough"
I still loved paintings and crafts in full size and it was then that I started to offer
personalised house portraits
and that remains my main business today.
I love creating paintings for clients and achieving their vision of a beautiful house portrait.  
BEING CREATIVE
My journey into painting houses has taken yet another turn and I am now incorporating textile house portraits to my portfolio.  Painting with fabric and thread.  This is still a work in progress whilst I explore what works and what does not.  It's a definite learning curve.
I still paint for just me, and these originals are kept safely at home as I cannot part with them! They are my babies.  These paintings have been professionally scanned and then printed onto various household items and accessories and are now available in my shop.
Thanks for taking the time to read a bit about me and please feel free to have a browse. If you have any questions, please do get in touch

Jan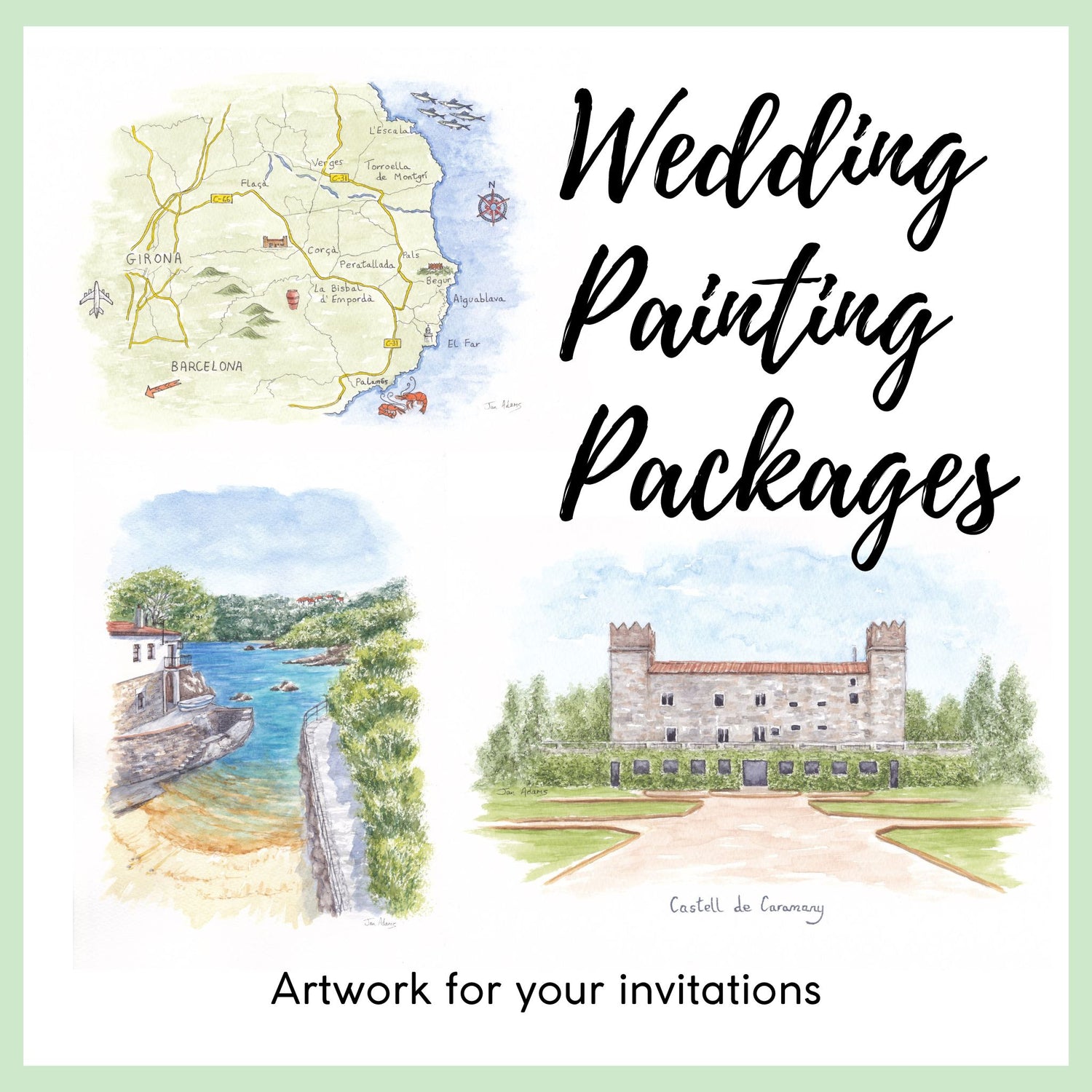 Artwork for your wedding stationery
I can paint your wedding venue, the location and even paint a map of the area. The perfect way to help inform your guests of the location of your venue.
All I need are some photos to get started
Contact me
Let customers speak for us